Hrair Sarkissian's photographic series, Background
---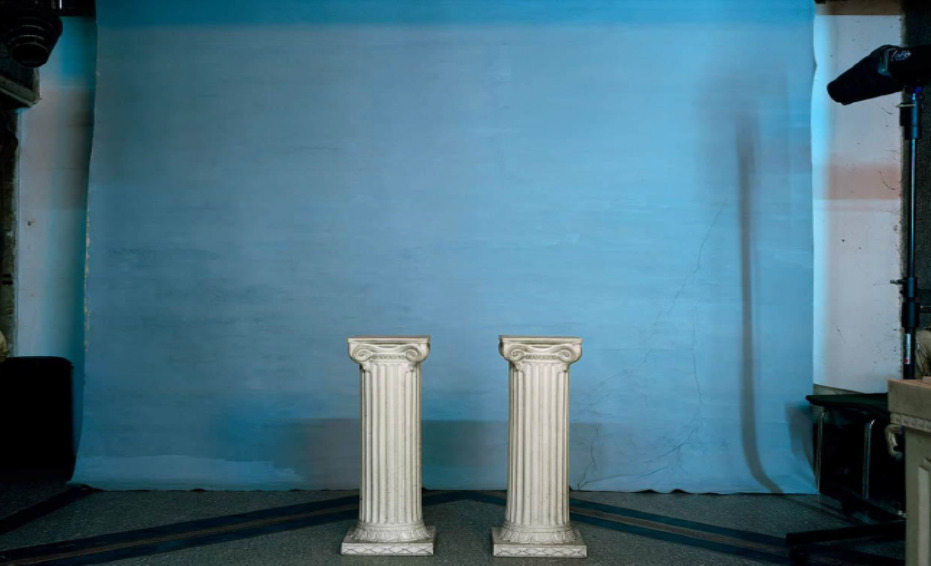 About the artwork:
In Background, Hrair Sarkissian photographed hundreds of examples of empty, staged backdrops in photographic studios across six Middle Eastern cities-Alexandria, Amman, Beirut, Byblos, Cairo and Istanbul. These backdrops, absent of their sitters, become symbols of lost traditions, cultural identity and time; eulogies to a certain period within a society and celebrations of portraiture as an art form. The Project was commissioned as part of the Abraaj Capital Art Prize 2013. For this exhibition, three photographs from the Background series, taken in Alexandria, will be shown to the public.
About the artist:
Hrair Sarkissian is a photographer. Born and raised in Damascus, he earned his foundational training at his father's photographic studio, where he spent all his childhood vacations and where he worked full-time for twelve years after high school. In 2010 he completed a BFA in Photography at the Gerrit Rietveld Academie, Amsterdam. He lives and works in London since 2011.
Of his work and process, Sarkissian says: "I use photography as a way to tell stories that are not immediately visible on the surface. Employing traditional documentary techniques and using a 4×5 analogue camera, my photographic series consist of austere, large-scale images. The constancy and beauty of the settings, however, are at odds with the socio-historical realities that they conceal. Photography is my tool to search for answers related to my personal memories and background, and I use this subjectivity as a way to navigate larger stories that official histories are unable or unwilling to tell. I try to engage the viewer into a more profound reading of what lies behind the surface of the image, thereby re-evaluating larger historical or social narratives. Once people become aware of the invisible elements behind my work, the physicality of the image is almost destroyed."
Sarkissian's work has been the subject of solo exhibitions at the Modern Art Museum of Fort Worth, Texas (2020); Davis Museum, Wellesley College, USA (2017); Sursock Museum, Beirut (2017); Fondazione Carispezia, La Spezia, Italy (2015); Mosaic Rooms, London (2015); Kalfayan Galleries, Athens (2013, 2010 and 2008); Darat al Funun, Amman (2013); SALT Beyoğlu, Istanbul (2011); Podbielski Contemporary, Berlin (2011); and Museum of Photography of Thessaloniki, Greece (2007). His work can be found in the collections of the Modern Art Museum of Fort Worth, Texas; Utah Museum of Fine Arts; Mori Museum, Tokyo; Tate Modern, London; Fondazione Cassa di Risparmio di Modena, Italy; Fondazione Cari Spezia, Italy; Sharjah Art Foundation; The Khalid Shoman Collection, Amman; and The Farjam Collection, Dubai.
Official website: https://hrairsarkissian.com
---