Ring with intaglio, Gold and jasper
---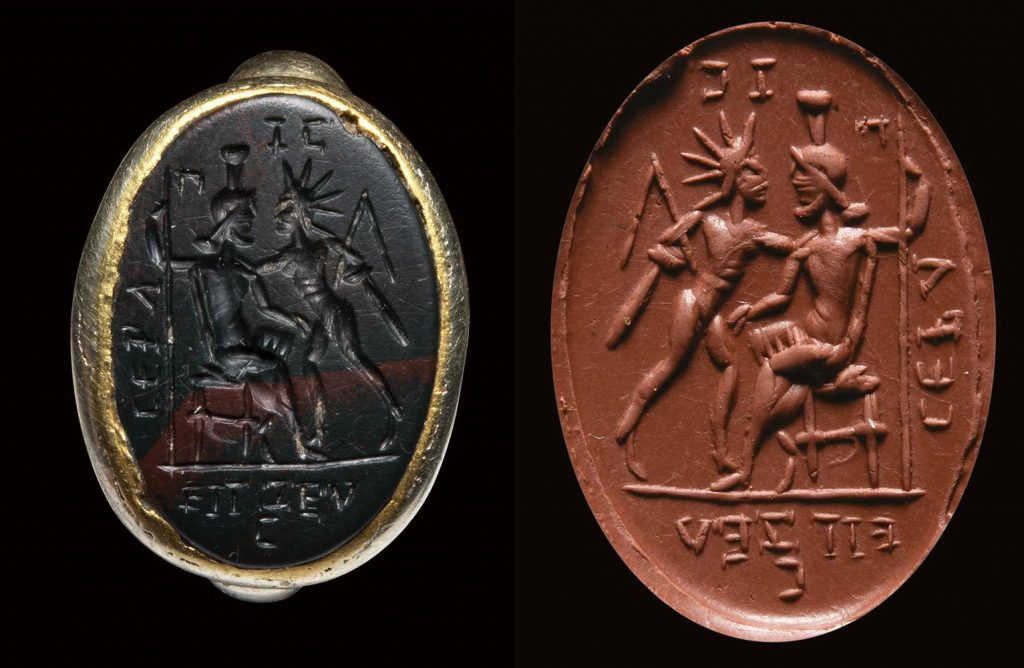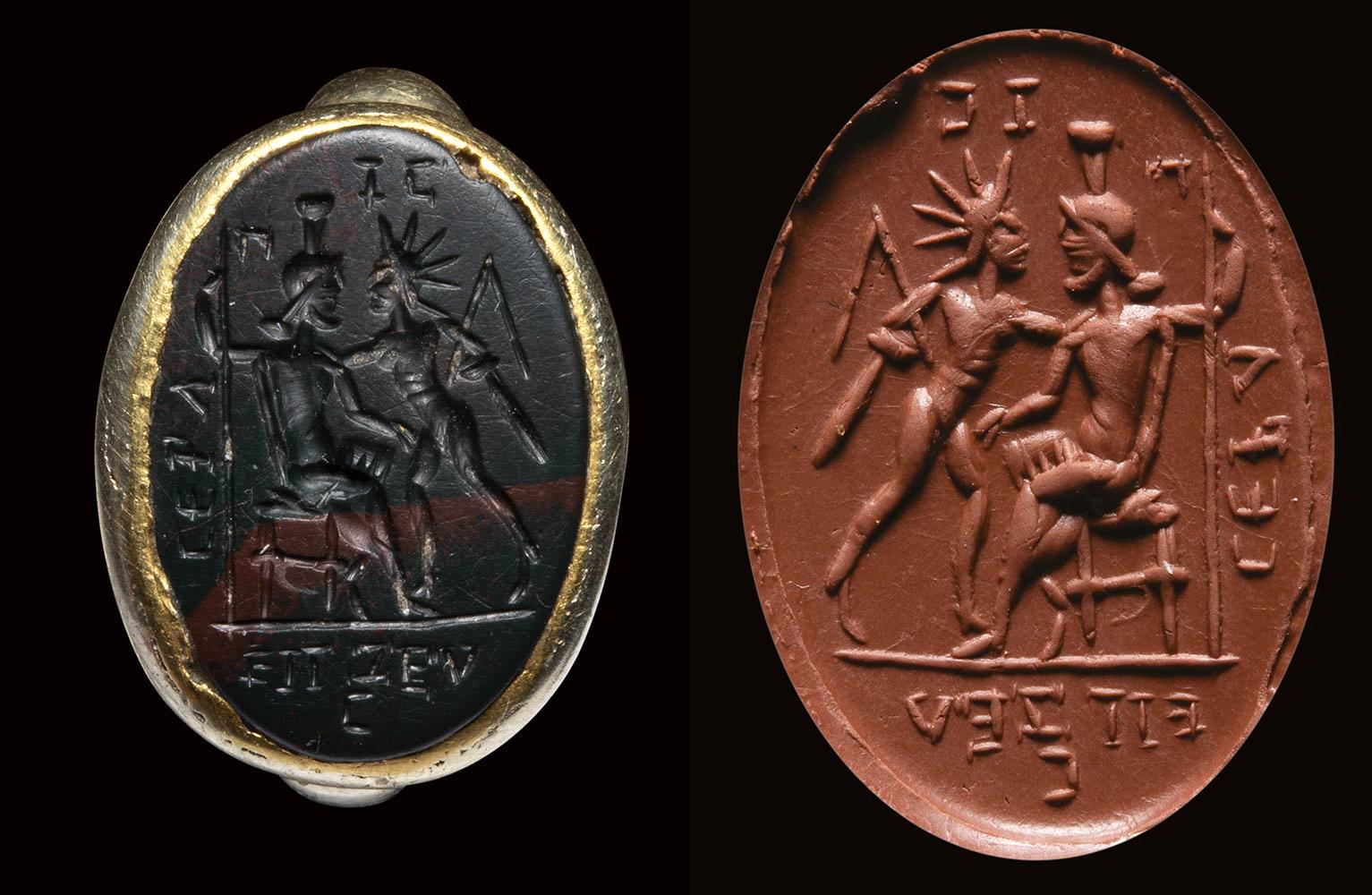 About the artwork:
The scene engraved on this jasper immerses us in the religious world of Roman Egypt. On the left, the patron god of the city of Alexandria, Serapis, is seated on a backless throne, facing right, holding a long sceptre in his raised right hand. He is draped in a cloak that wraps around his lower body and falls over his right shoulder, leaving his torso visibly bare. He is bearded, with a roll of hair running down the back of his neck, and wearing a high calathos, the grain basket that usually serves as his crown. To the right, Helios, the Sun, stands in front of him as a beardless young man with a six-rayed crown on his head and a whip in his left hand. He is completely naked, but wears a cloak that is simply folded over his left arm. With long legs, he is in a walking posture, approaching Serapis' face, while preparing to place his right hand on his shoulder.
This scene repeats an iconographic theme popular in Alexandria in the second century AD, often referred to as the "kiss of the Sun". It would have originally referred to a ritual practice specific to the worship service of the great Serapoum of Alexandria. The sanctuary erected by the first Ptolemies to establish the cult of Serapis in the city freshly founded by Alexander was one of the most splendid and famous in the ancient world. The best documented episode in the history of this place of worship is ironically its destruction by the Christians in 392. The most comprehensive account of this highly symbolic event is given by a Christian author, Rufinus of Aquileia, who decries the beliefs in Serapis and the trickery used in his rituals. Thus, he explains that the rays of the rising sun shone through a narrow window onto the lips of the cult statue of the god at the precise moment when a figure of Helios approached it by using the attractive force of a magnet. This ingenious arrangement in fact evidences the accomplishment of an authentically Egyptian ritual that aimed to reanimate the statue of a deity, to revive the strength that dwells in it through its union with the Sun.
The scene depicted on the jasper stone very likely originated from this ritual. However, it is unclear what was the reading, the meaning, that its owner intended for it. His motivation was above all to express his devotion and his trust in Serapis, an all-powerful god, yet accessible and listening to men. This is evidenced by the Greek writing, the acclamation "One is Zeus-Serapis", engraved in the scene.
Such praise allowed each person to glorify a divine instance of their choosing, as a deity appeared in the circumstances as being incomparable, and therefore 'unique'. It is to Zeus-Serapis that the wearer of our ring has granted this pre-eminence.
Text: Musée royal de Mariemont
---