Caravan Residency program at Cittadellarte – The start of a residency about culture, cooperation and planning
From 20 February to 3 March, Cittadellarte hosted the Caravan Residency Program, a new stage of the project "Alexandria: (re)activation of common urban imaginaries", conceived and implemented by UNIDEE Residency Programs, curated together with Edwin Nasr in conversation with Sarah Rifky and supported by the European Union's Creative Europe programme. From the context of Biella and Fondazione Pistoletto, the 16 international participants and the 5 social entrepreneurs worked together to compose, redesign and play with existing parts and elements that structure everyday life through a peripatetic format, with reference to Alexandria and other European and Mediterranean cities.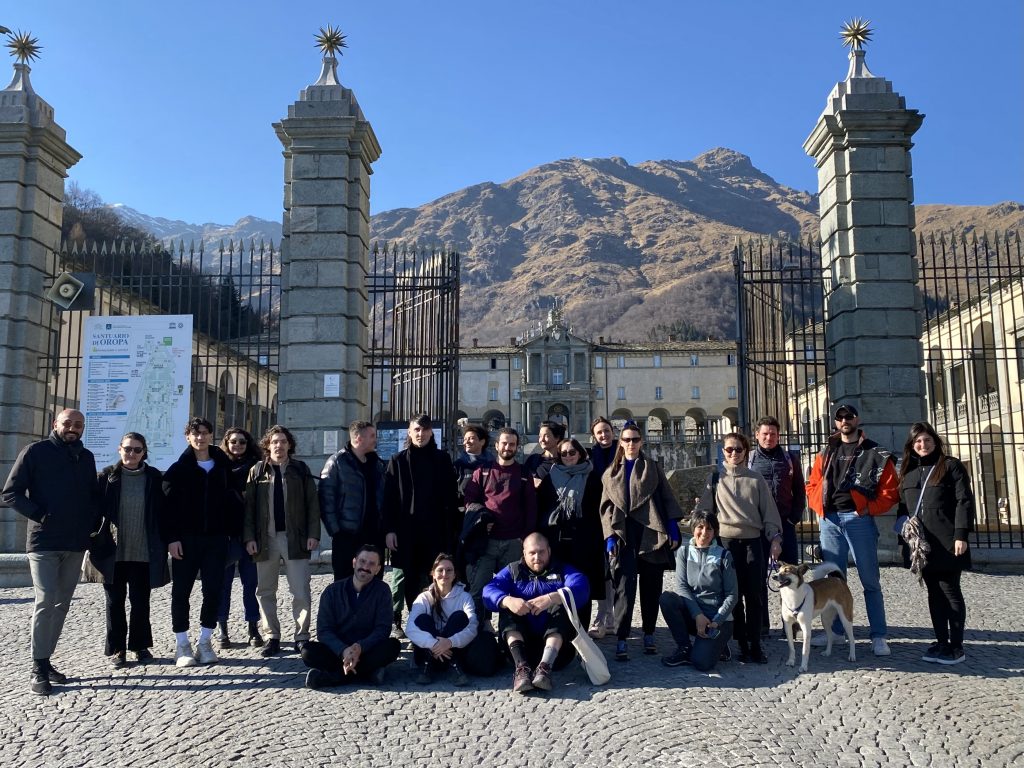 One of the missions of the project Alexandria: (re)activating common urban imaginaries is to give a voice to innovative reflections on the relationships established between creation, culture, heritage, and the development of the modern Mediterranean and European metropolis. The project aims at taking a fresh look at the many challenges faced by the arts and heritage sectors, through the symbolic and historical prism of the city of Alexandria and its influences on urban development in the Mediterranean and beyond. This process relies on the setting up of nomadic artistic residencies between Egypt and Europe: the project, conceived to encourage and facilitate European and Mediterranean cooperation and started on 1 November 2020, wants to shed light on the heritage of the Mediterranean city — which remains insufficiently explored and understood — through the development of new cultural and artistic perspectives. From 20 February to 3 March, Cittadellarte hosted the first phase of the programme, i.e. Caravan residency program: Thinking with Alexandria, conceived and implemented by UNIDEE Residency Programs, curated together with Edwin Nasr in conversation with Sarah Rifky. Caravan is an invitation to compose, redesign and play with existing parts and elements that structure everyday life through a peripatetic format with reference to Alexandria and other European and Mediterranean cities, in order to define new modalities of relationship and of understanding the urban, infrastructural and social processes. The programme involves local organisations in the partner cities and is inspired to the 17 sustainable development goals of the UN's 2030 agenda.
The concept of the residency
"The chimeric port city serves as heuristic device for the Caravan Residency Program, – said curators Sarah Rifky and Edwin Nasr – Alexandria has been shaped by the historic tensions and contested narratives of imperial and emancipatory forces. In the 13th century, it emerged as an atypical site of commercial activity and pre-capitalist trade infrastructures set up by European merchants. The New Imperialism of the 19th century then incorporated the Eastern Mediterranean into the circuitry of global economy; at that point, Alexandria was administered by the Ottomans, then bombed and occupied by the British. The city became a playground for the articulation of utopian imaginaries, hosting anarchists, intellectuals, and renegades from the Arabic-speaking region and the world over to experiment with radical modes of assembly and critique and establish popular theatres and universities, independent presses, and fugitive communes. In the worlds of Nelson Goodman, the opportunity to think with and through Alexandria allows us to exercise worldmaking against erasure and towards futurities. Worldmaking starts from worlds already at hand: the making is a remaking".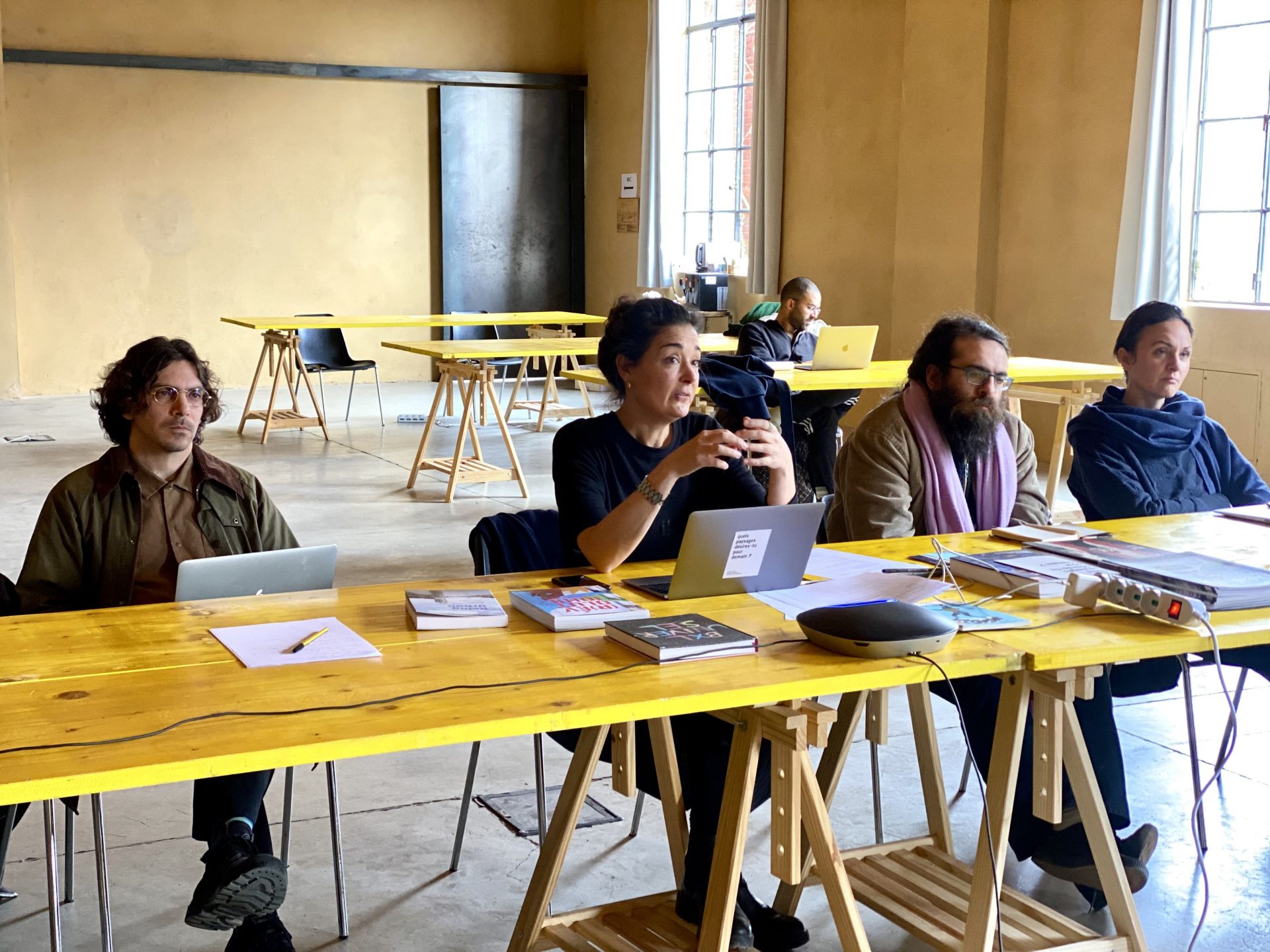 The participants and the weeks of residency
The experience involves experts Angela Melitopoulos, CLUSTER / Omar Nagati, Tiziana Terranova, Youssef El-Chazli, Ilham Khuri-Makdisi; and social entrepreneurs Sarah Bahgat (Alexandria), Alexandre Field (Marseille), Pauline de la Boulaye (Brussels), Electra Karatza (Athens), Michalis Christou and Demetra Ignatiou (Nicosia). The participants, selected last summer from more than 600 applications, are Islam Shabana (Egypt), Neja Tomsic (Slovenia), Zeynep Kaserci (UK, Turkey), Chiara Cartuccia (UK, Italy), Onur Çimen (Turkey), Sara Fakhry Ismail (Egypt), Post Disaster collective (Italy), virgil b/g taylor (USA/Germany), Lodovica Guarnieri (UK, Italy), George Moraitis (Greece), Mark Lotfy (Egypt), Mahmoud El Safadi (Lebanon), Stella Ioannidou (Greece), Omnia Sabry (Egypt), Latent Community (Greece) and Nina Kurtela (Croatia).
All of them will take part in the second session of Caravan in Alexandria, Egypt, a fundamental moment in their research, while in May, the 16 participants will continue their residencies in Nicosia, Brussels, Athens and Marseille, divided into groups coordinated by the social entrepreneurs. In July, they will return to Biella, the city where their journey began, to produce the final project resulting from their experience.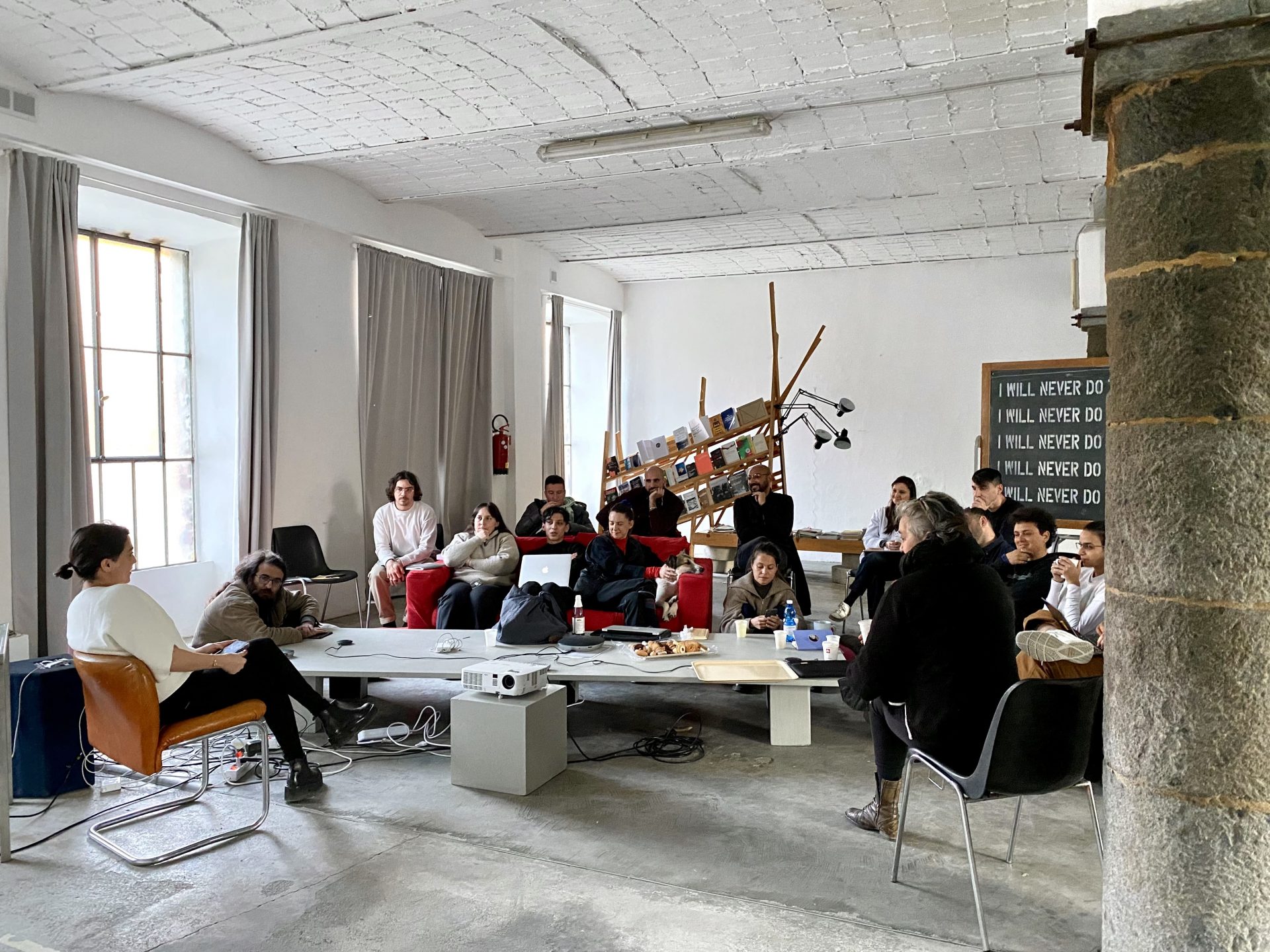 The social entrepreneurs
A social entrepreneur is a curator, sociologist, urban planner, architect and activist interested in social transformation and with a great knowledge of the territory, its problems and strengths, able to connect the residents with the social fabric. The social entrepreneurs in the programme are Sarah Bahgat (Alexandria, Egypt), cultural manager and curator based in Cairo; Alexandre Field (Marseille), architect and producer; Pauline de la Boulaye (Brussels), historian by training and curator of independent exhibitions, who co-produces urban art projects that activate links between inhabitants and places; Electra Karatza (Athens) cultural producer, art theorist, researcher; Michalis Christou and Demetra Ignatiou (Nicosia), cultural experts and archaeologists.
They are a crucial presence for the Caravan artists: the social entrepreneurs will in fact be their guides in finding and mapping the partners' territories, identifying and interacting with local organisations aiming at achieving the 17 sustainable development goals outlined in the 2030 Agenda. As well as passing on their knowledge of the partner cities to residents, they will research, plan, produce and present a programme of visits to the city sites, facilitating interaction with local groups and working closely with local communities, artists and partners. Another task of the social entrepreneurs will be to facilitate and organise the forums with the mapped subjects concluding each Caravan residency.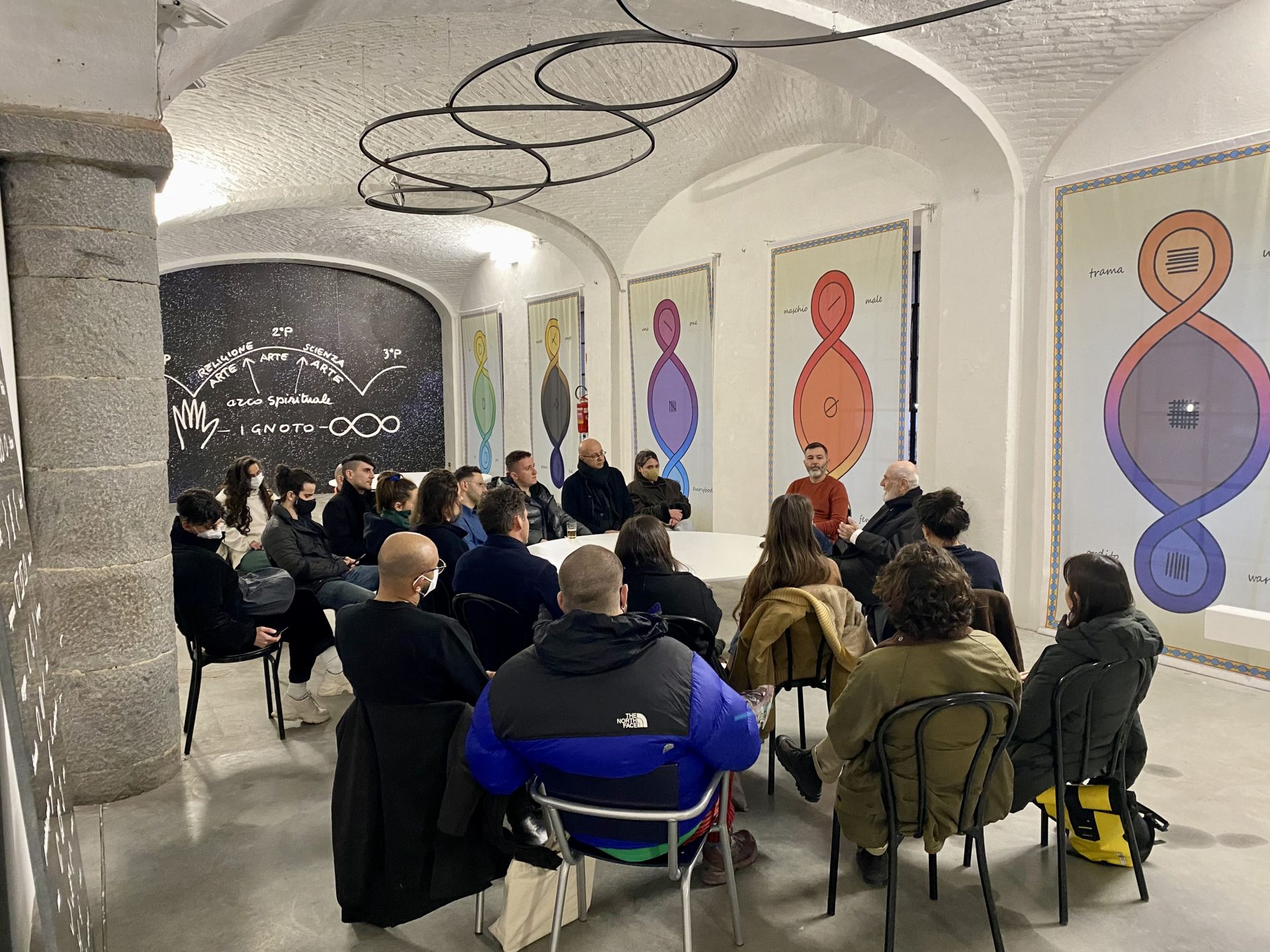 The lectures
During the Biella residency, the lectures were given by Tiziana Terranova, Youssef El-Chazli and Ilham Khuri-Makdisi.
Theorist and activist Tiziana Terranova, who teaches and researches digital media cultures and policies in the Department of Human and Social Sciences of the University of Naples "L'Orientale", presented her recent work on the concept of recursive colonialism in which she reflects on how colonialism reproduces itself through repetition and diversification. In her lecture 'Recursive Colonialism and the Mediterranean', she also focused on how technology influences the Mediterranean and the importance of looking at the history of technology not only from a Western perspective.
Political sociology scholar Youssef El-Chazli, a sociology teacher at the University of Paris 8 Vincennes Saint Denis with a PhD in Political Science from the University of Paris1 Panthéon Sorbonne and the University of Lausanne, focused instead on his writing "Devenir Révolutionnaire à Alexandrie", published in 2020: the book traces the origins and development of Alexandrian local politics in the 1990s and 2000s, and explores the revolutionary emergence in "Egypt's second capital" through a micro-analysis; the book also describes some of the main social, political and cultural transformations that affected the Mediterranean cities under Mubarak's rule. El-Chazli also takes a fresh look at protests and upheavals by analysing these phenomena in other countries, such as in the Arab region. His research explores the controversial politics and dynamics of protest in North Africa and the Middle East, with a particular focus on Egyptian politics.
Ilham Khuri-Makdisi, an expert on the late Ottoman Empire and teacher of courses in Middle Eastern history, world history and urban history at Northeastern University, also lectured on one of her texts, "The Eastern Mediterranean and the Making of Global Radicalism, 1860-1914", published in 2010: this is a groundbreaking book with a research focus on the global and intra-imperial ties linking the Ottoman Eastern Mediterranean. The author discussed her research focusing on establishing the existence of a radical trajectory spanning four continents and linking Beirut, Cairo and Alexandria between 1860 and 1914. The text highlights how in these cities socialist and anarchist ideas were regularly discussed, disseminated and reworked among intellectuals, workers, playwrights, Egyptians, Ottoman Syrians, ethnic Italians, Greeks and many others.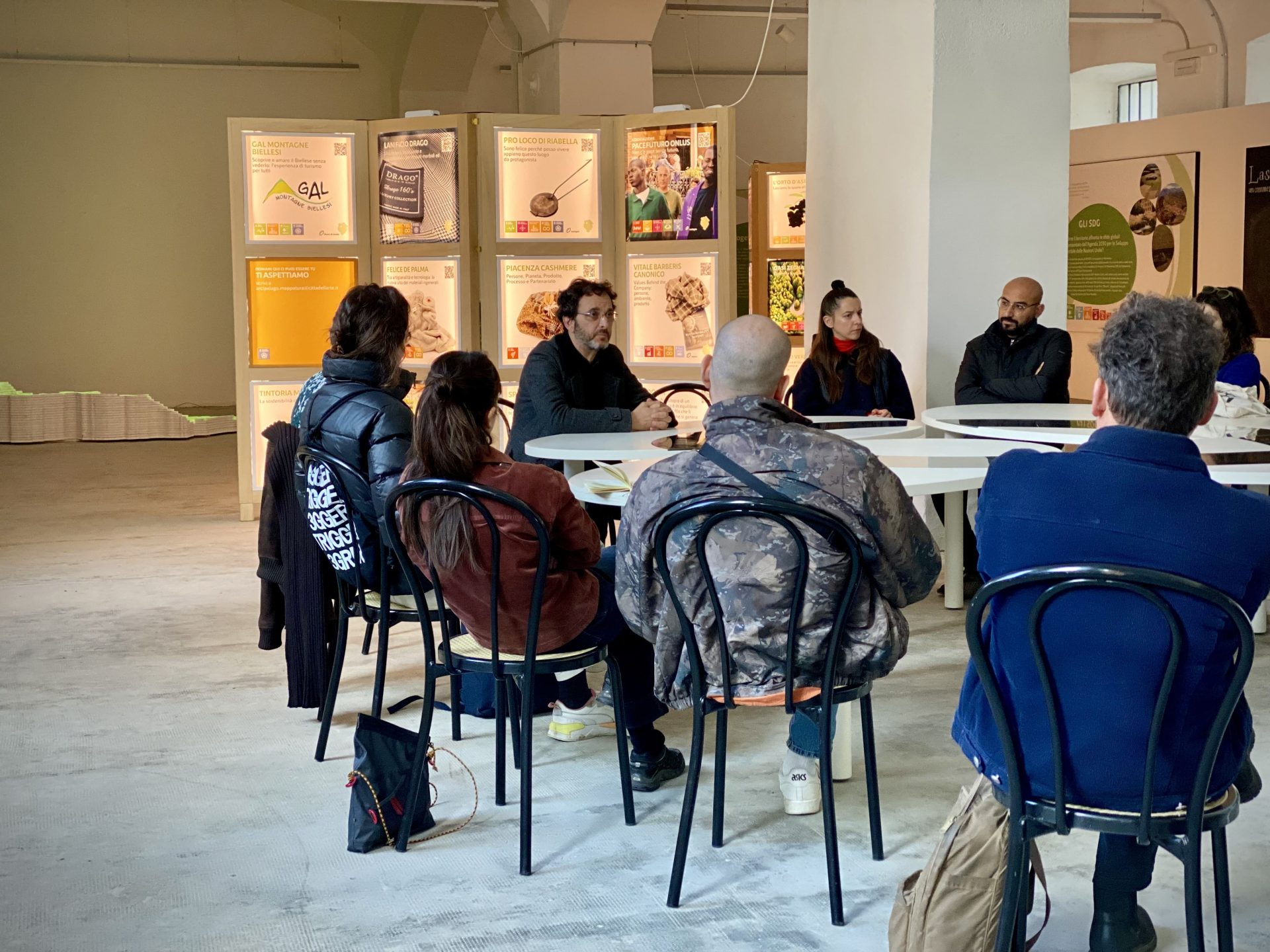 The experts in the workshops
The workshops were led by CLUSTER's co-founder and director, Omar Nagati, and artist and researcher Angela Melitopoulos. CLUSTER is an independent urban design and research platform based in Cairo. It features a wide range of programmes, publications and online platforms with extensive experience in mapping tangible and intangible urban heritage in cities in the MENA region and Africa. Omar Nagati is the co-founder of the platform and a practising architect and urbanist. A graduate from Cairo University, he studied at UBC Vancouver and UC Berkeley with a specific focus on informal urbanism, and has taught at local and international universities and at the University of Sheffield in the UK. Nagati takes an interdisciplinary approach to urban issues of history and design, and engages in comparative analysis of urbanisation processes in the Global South. His work at CLUSTER has received numerous awards including the Cairo Design Award and the Curry Stone Design Price, representing Egypt in a series of architecture and urban biennials in Venice, Lisbon and Seoul. Angela Melitopoulos is a Berlin-based artist who has been making experimental video essays, installations, documentaries and sound pieces since 1985. She studied at the Düsseldorf Academy of Art with Nam June Paik and holds a PhD in Visual Culture from Goldsmiths University in London; she is now a professor in Copenhagen. Melitopoulos's work focuses on mnemopolitics, time, geography and collective memory in relation to electronic/digital media and documentation. Her videos and installations have received awards and have been shown at many international festivals, exhibitions and museums. Melitopoulos presented her work and led a two-day workshop on audiovisual art and geography, questioning the way we understand. She talked specifically about Crossings, shown at Documenta 14 in Kassel, which creates a narrative about war, past and present forms of slavery, and ecological disasters. Crossings also focuses on the conditions of the current debt crisis in Greece, where deregulation is triggering a civil war among its citizens.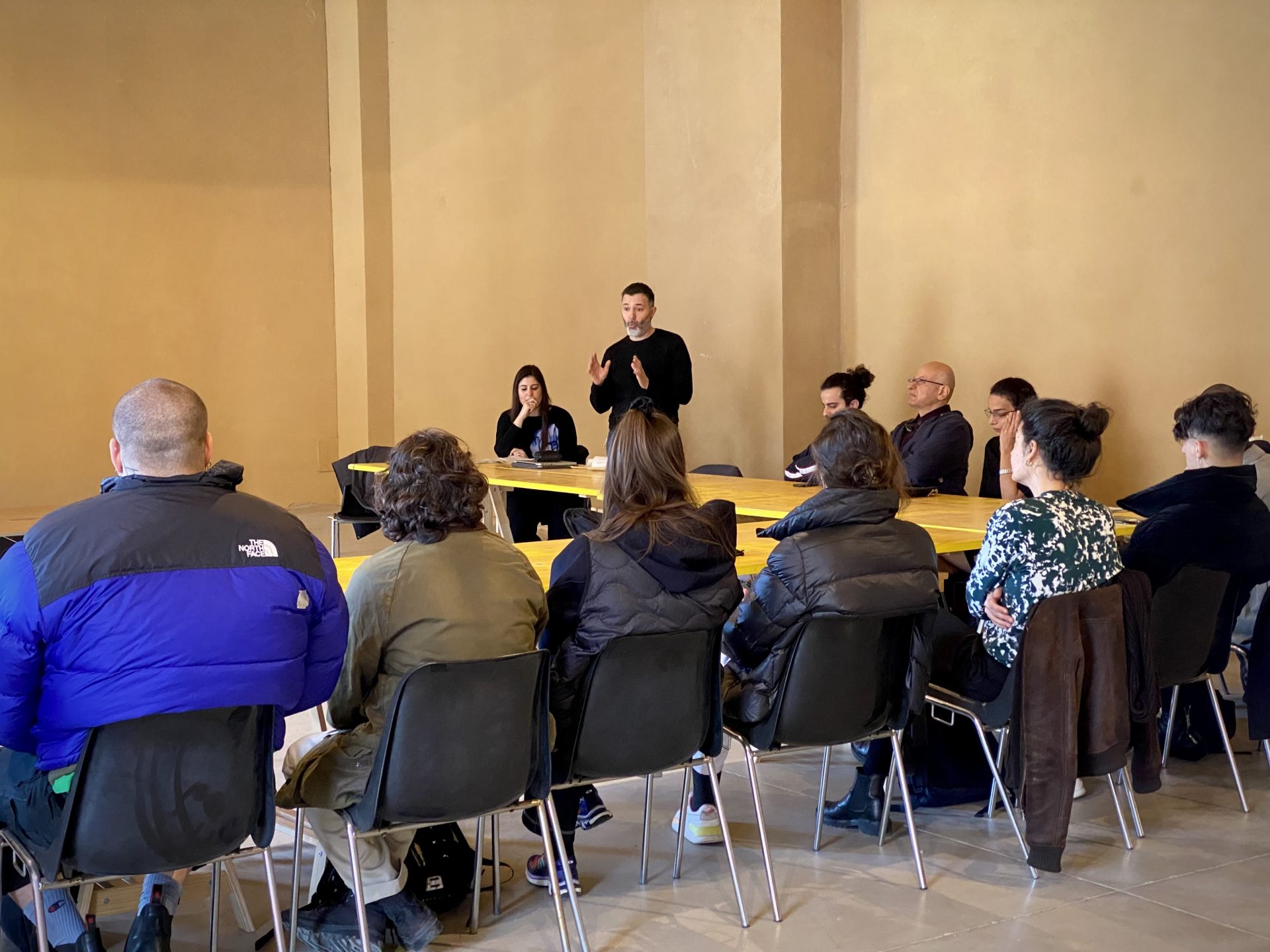 The comments of the two curators
"It was meaningful to be able to gather a number of artists from all over the Mediterranean who work on many different practices," said Sarah Rifky, "during the residency, we had the opportunity to consider Alexandria not only as a place, but as a starting point for methods and projects that can be replicated in other contexts, also creating links with other cities. This is also a way for us to imagine ourselves as 'brothers' in a global context. Besides, we dealt with issues such as climate change and migration in the Mediterranean". Edwin Nasr focused instead on the artistic contaminations and exchanges with the experts of the residency: "The meetings," he said, "were very important: they allowed us to create a continuous and critical dialogue between them and the participants. We hope that during their visit to Alexandria, the residents will be able to apply this experience to the specificity of the Egyptian context, as in the other cities of the Caravan residency programme".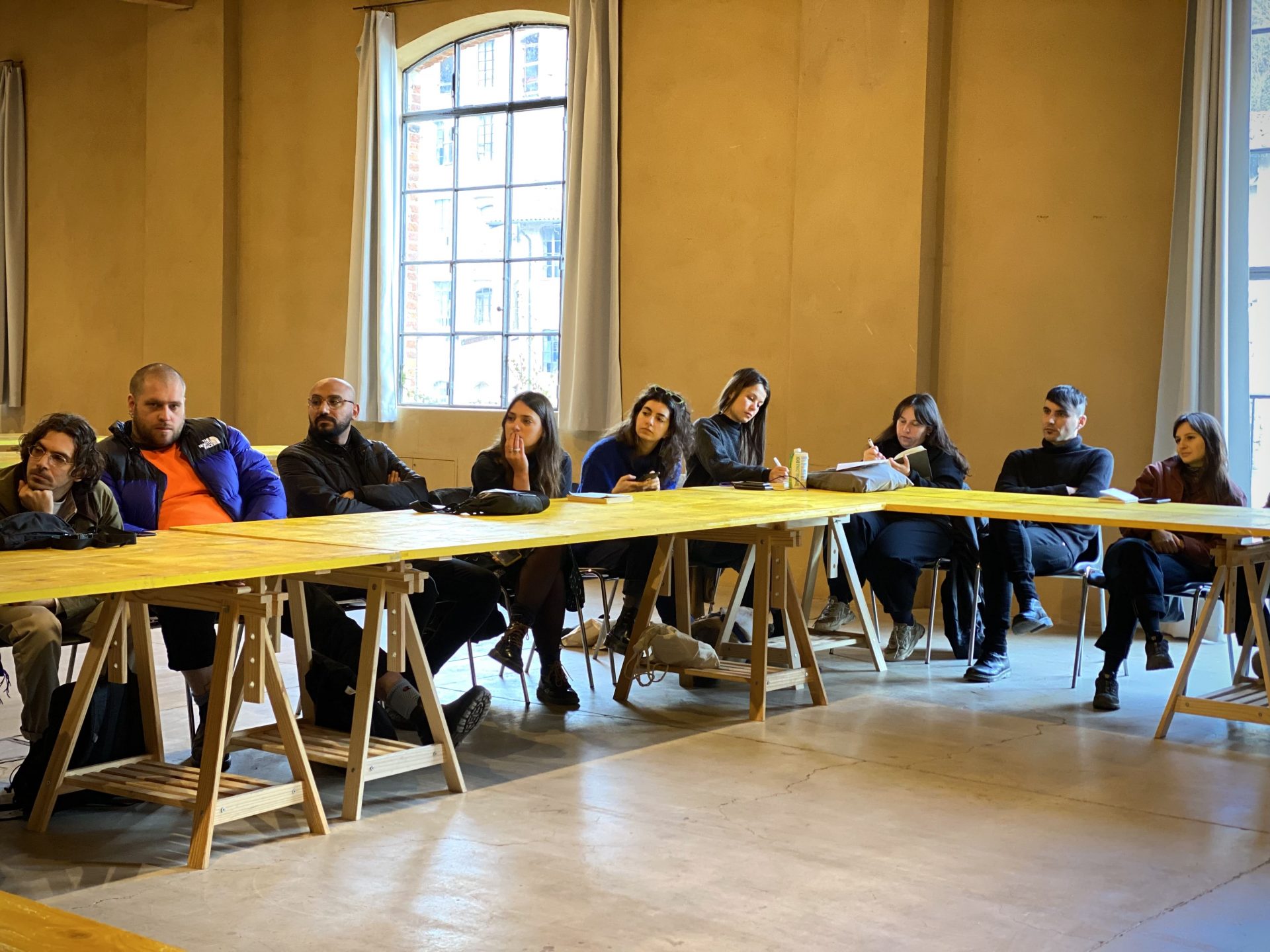 The testimonies of some of the residents
"I think it is interesting for me to reflect on Alexandria from my point of view," said Sara Fakhry Ismail, "as a person who has lived in Cairo all her life. It is stimulating for me to think about relations and connections between Cairo and the port city, two contexts in which people have different accesses to spaces. In this perspective, the role of the port is important because of the way people travel from one part of the Mediterranean to another".
The relationship between Alexandria and other contexts was also a key element for Mahmoud El Safadi: "The first motivation that led me to enrol in the programme," he claimed, "was to think of Alexandria as a poor city in the Mediterranean and how it could potentially connect to other cities in this area. I come from Lebanon, from Beirut. Beirut and the port city share landscapes and history, so thinking about Alexandria from this point of view was very interesting for me. I found the focus on migration and economic flows, climate and landscape very interesting. Having the chance to experience different cities is a great opportunity offered by the programme".
His words were echoed by Gabriele Leo: "We are a collective (Post Disaster) with a background ranging from architecture to social design," he said "and our main aim is to relate to urgent contemporary urban issues with an interdisciplinary approach. We started our practice in Taranto, the city we all come from. Through investigating the city of Alexandria, we would like to question and at the same time understand the Mediterranean scenario. The history of Alexandria is closely related to the history of this basin and, at the same time, the city is experiencing problems that are linked to a neoliberal process. We then decided to work on Nicosia, the city where we were selected, to create a connection with these two cities. We think that these two territories share a lot with each other".
Nina Kurtela concluded with a comment also positive: "It will be interesting to discover new places, getting to know their specificities and sharing the experience with other artists and scholars".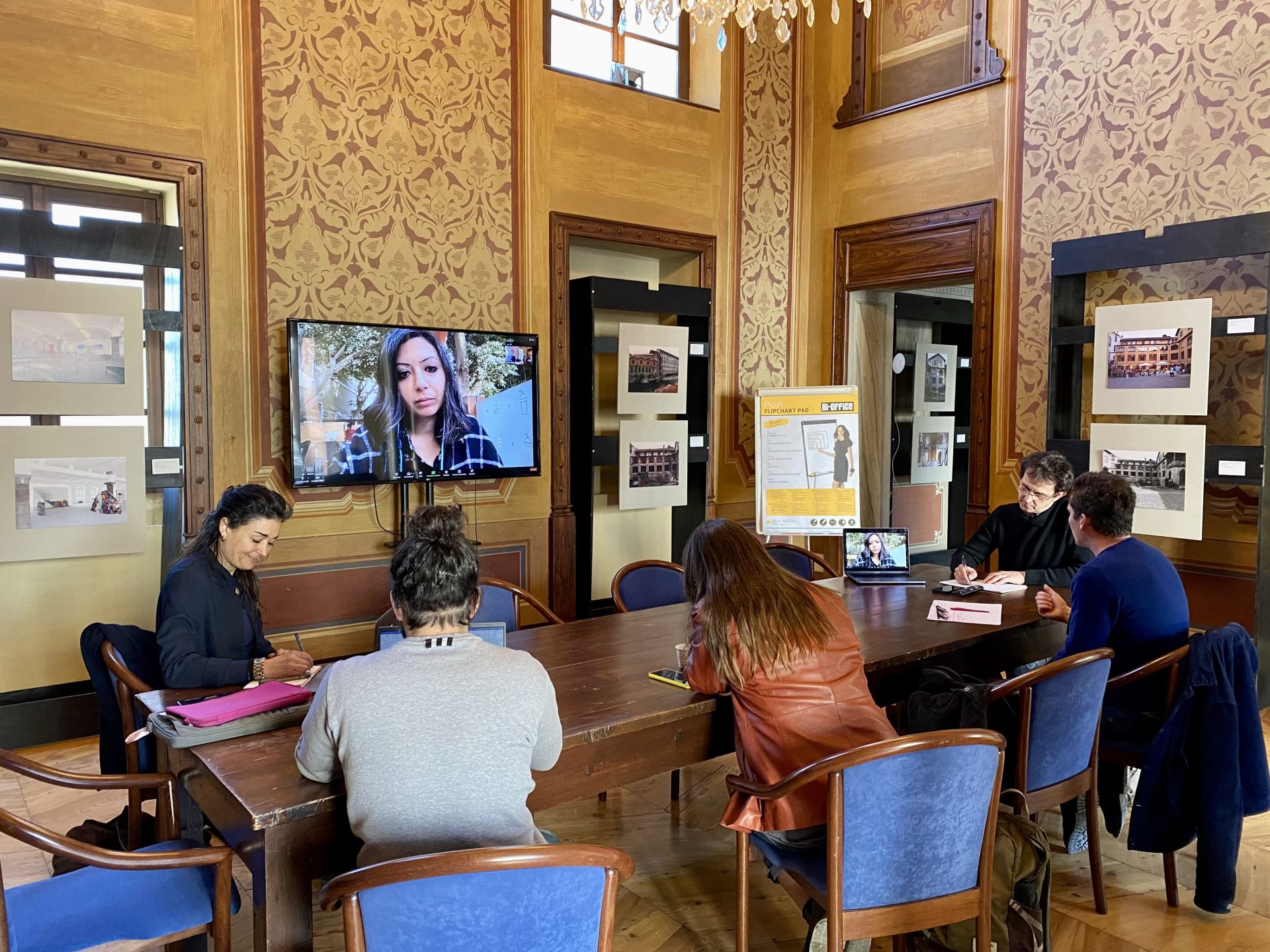 Text: Cittadellarte