In Lieu Of A Prism – Showcase in Alexandria, Egypt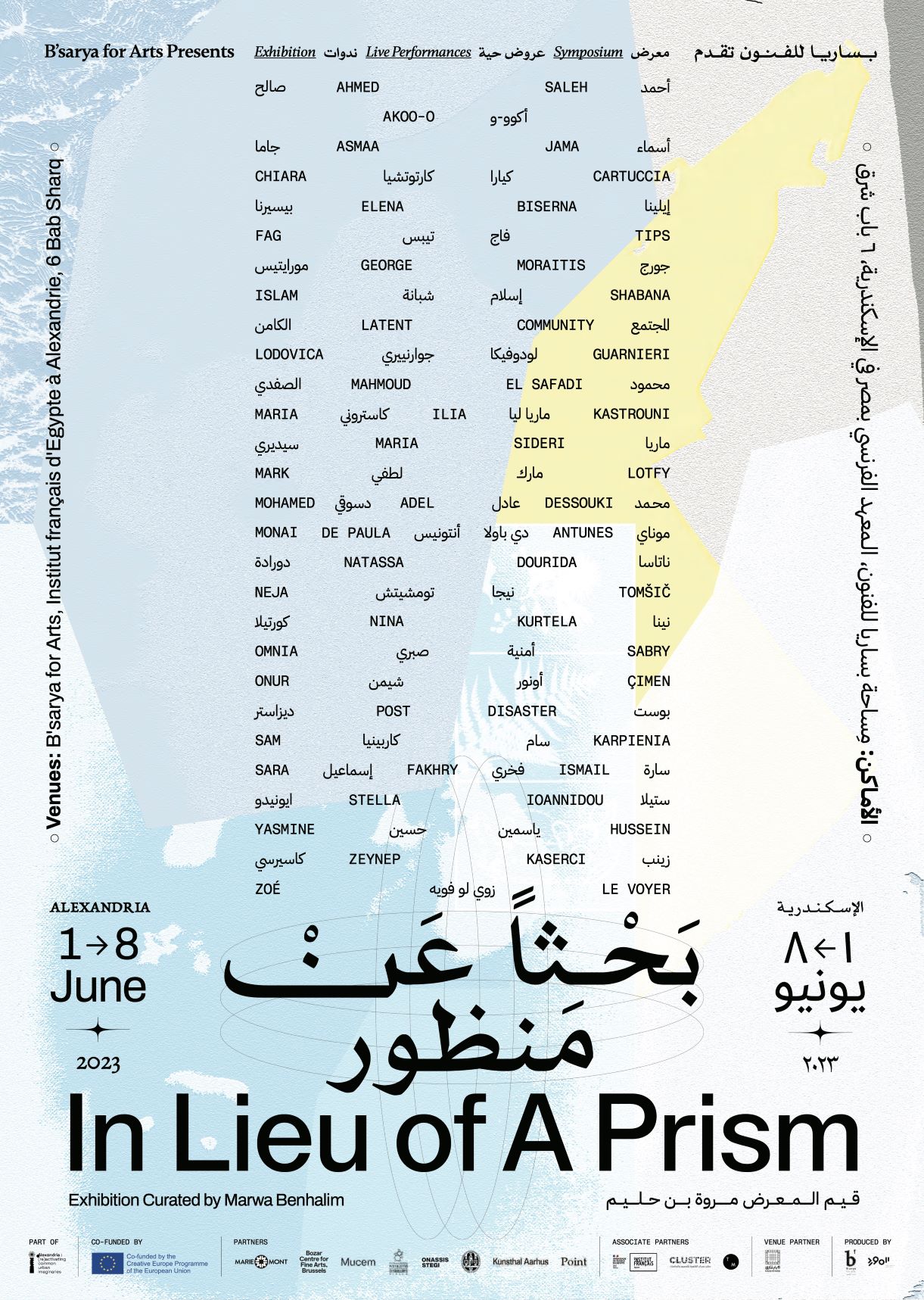 In Lieu Of A Prism
Last stop for the project was the showcase in Alexandria from June 1 until June 8, 2023.
B'sarya for Arts, Institut français d'Egypte à Alexandrie, 6 Bab Sharq
In Lieu Of A Prism originated from the the artistic outcomes of both residencies Caravan: Thinking with Alexandria and School for Sonic Memory.
The exhibition was accompanied by a public program of talks, walking tours, live performances and conferences from June 1st until June 8th, 2023, at B'sarya for Arts, Institut français d'Egypte à Alexandrie, and 6 Bab Sharq.
---
The artworks in In Lieu of a Prism are clustered around three thematics: geographies, belongings, and ruins. Geographies are seen as a collection of layers, each with a unique chemical composition, physical state, and impact, much like Alexandria's many layers, cultures, and identities throughout history, from the Ptolemaic city until today. The city has shifted, twisted, and molded through many narratives, at times serving as an extension of Europe on the African continent, and as a revolutionary city in other narratives. To which imaginary does Alexandria belong? Can it, just like with other Mediterranean cities, be freed from the romantic and colonial gaze? To whom does Alexandria belong? Thinking of belonging as the entanglement of fragments of collective/personal memories, historical narratives, and alternate imaginaries, the compilation of these moments makes up the lenses and prisms through which the city can be seen. Alexandria's ruins are the visual, sensory, and sonic collapse of the past, as seen in its physical manifestation in the city's urban fabric and many other cities all around the Mediterranean. A never-ending process of destruction or preservation in service of specific historical and cultural narratives. These thematics are inspired by the collective publication Place Holder, which forms the conceptual backdrop of this exhibition. The publication was developed throughout the residency Caravan: Thinking with Alexandria where the participants proposed these three thematics as the pillars of the residence's collective conversations, thoughts, and experiences.
During 2022, the Caravan: Thinking with Alexandria residency and the School for Sonic Memory residency, artists traveled to Alexandria, Marseille, Athens, Nicosia, Brussels, and Biella working with various media to rethink and question urban imaginaries surrounding these cities. Guided by social entrepreneurs, local artists and researchers, the participants' encounters with these urban landscapes were intertwined with their geographical, conceptual, and visual lenses. The Caravan: Thinking with Alexandria residency curators, Sarah Rifky and Edwin Nasr, highlighted "the condition of how we arrive at Alexandria," as well as how Alexandria arrives at us. While the resident artists negotiated their role and relationship to Alexandria within the residency through their works that range from photography to video, sound, performance, installation, and sculpture. Their collective conversations questioned their positionality, stating: "We also are the prism." They arrived with their own geography, past and future, creating works that meditate on mythology, memory, urbanism, violence, archeology, and nationalism entangled within the reflections of the Alexandrian imaginary.
This exhibition originates from the residencies alternative pedagogical frameworks. The nomadic nature of the artists's travels, interactions, and encounters created space to learn with and through the cities of the Mediterranean basin. During the School for Sonic Memory residency, that was curated by Theatrum Mundi in collaboration with Onassis Stegi, the residents participated in conversations and learning experiences from local urbanists, activists, and cultural producers from three Mediterranean cities, as well as learning from one another, while "thinking of heritage as something made through active processes of creative remembering". As they moved between places that echoed within them, these interactions sparked works that are not a reflection of Alexandria but a dialogue with it. In Lieu of a Prism embraces the residency artists' fractured and nomadic experiences; it showcases artworks that range from meditations on water and climate change to critical aesthetic explorations of nostalgia and memory as a form of sonic knowledge production. Presenting in three venues, the exhibition offers another way of thinking about/through the city – giving prompts for the visitors to engage with Alexandria's urban landscape before entering the next venue – layering upon the knowledge, experience, and exploration of the exhibiting artists.
Curatorial text by Marwa Benhalim
---
Public Program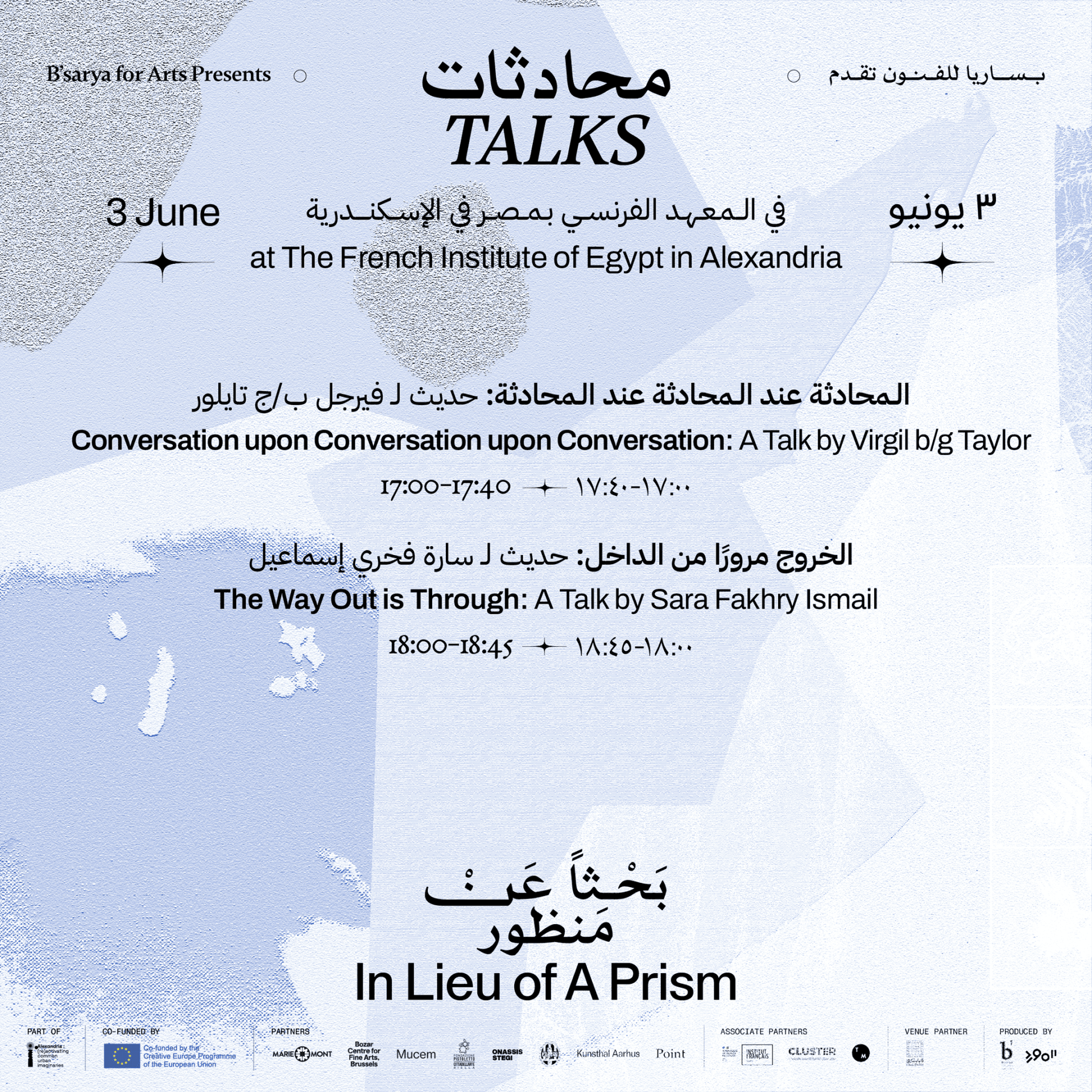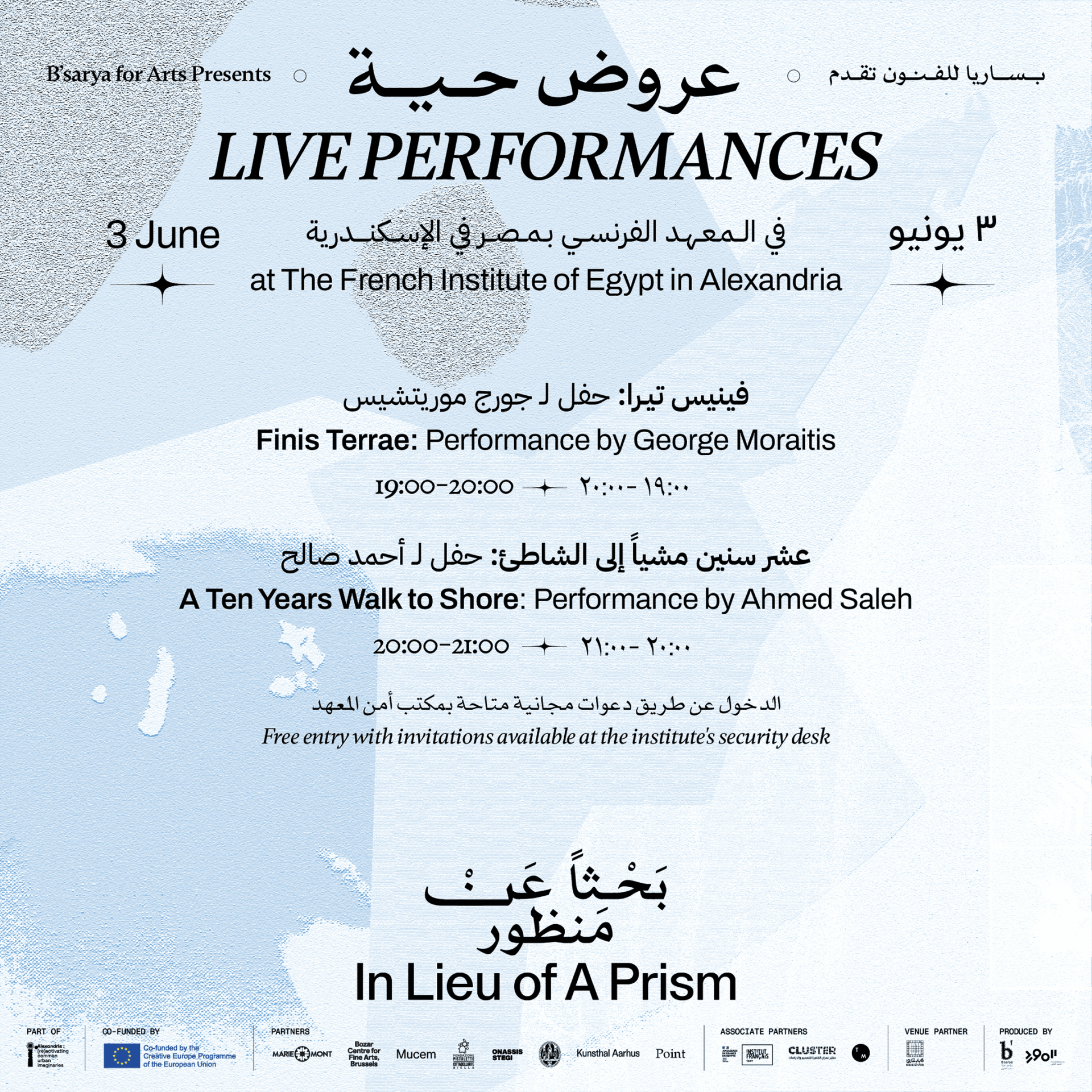 ---
Exhibition with works by:
Ahmed Saleh, Akoo-o, Asmaa Jama, Chiara Cartuccia, Elena Biserna, Fag Tips (Virgil B/G Taylor), George Moraitis, Islam Shabana, Latent Community, Lodovica Guarnieri, Mahmoud El Safadi, Maria Ilia Kastrouni, Maria Sideri, Mark Lotfy, Mohamed Adel Dessouki, Monai De Paula Antunes, Natassa Dourida, Neja Tomšič, Nina Kurtela, Omnia Sabry, Onur Çimen, Post Disaster, Sam Karpienia, Sara Fakhry Ismail, Stella Ioannidou, Yasmine Hussein, Zeynep Kaserci, Zoé Le Voyer.
Produced by B'Sarya for Arts
Organized by Bozar – Centre for Fine Arts, Cittadellarte – Fondazione Pistoletto, Institut français d'Égypte, Mucem, and Onassis Stegi
Caravan: Thinking with Alexandria residency is conceived and realised by the UNIDEE residency programs at Cittadellarte – Fondazione Pistoletto in Italy and is curated together with Sarah Rifky and in conversation with Edwin Nasr.
School for Sonic Memory residency is conceived and organised by Onassis Stegi, Greece, in collaboration with Theatrum Mundi, United Kingdom