Elena Biserna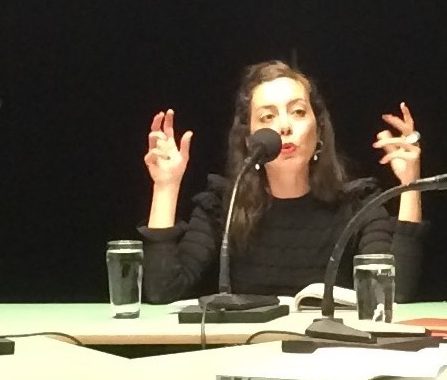 France
Elena Biserna is an independent scholar and occasional curator based in Marseille, France. Her interests are focused on listening and on contextual, time-based art practices in relationship with urban dynamics, socio-cultural processes, the public and political sphere.
Her writings have appeared in several international publications (Les Presses du Réel, Mimesis, Le Mot et le Reste, Errant Bodies, Amsterdam University Press, Cambridge Scholar, Castelvecchi, Bloomsbury, etc.) and journals.
She currently works on two books: Walking from Scores (Dijon: Les Presses du réel, 2022) and Walking, Listening, Sound-Making (Brussels: umland, 2022). She co-curates the series La Membrane and co-edits the column wi watt'heure of Revue & Corrigée with Carole Rieussec.
As a curator, she has collaborated with or presented her projects in different venues/organisations, such as Sonic Protest (Paris), Festival Plataforma (Santiago de Compostela); CIVA, Q-O2 (Brussels); Manifesta 13, Unité d'Habitation Le Corbusier, La Friche la Belle de Mai (Marseille); Locus Sonus, Fondation Vasarely, 3bisF (Aix-en-Provence); soundpocket (Hong Kong); Standards (Milan); NUB (Pistoia); Radio India (Rome); Sant'Andrea degli Amplificatori, Xing, Radio Città Fujiko (Bologna); Cona Zavod (Ljubljana); Saout Radio; p-node; Sound Threshold (London).
She has taught at ESAAix-École Supérieure d'Art d'Aix-en-Provence, Aix-Marseille University and the Academy of fine art of Bologna and is associate researcher at PRISM (AMU/CNRS) and TEAMeD (Université Paris 8).